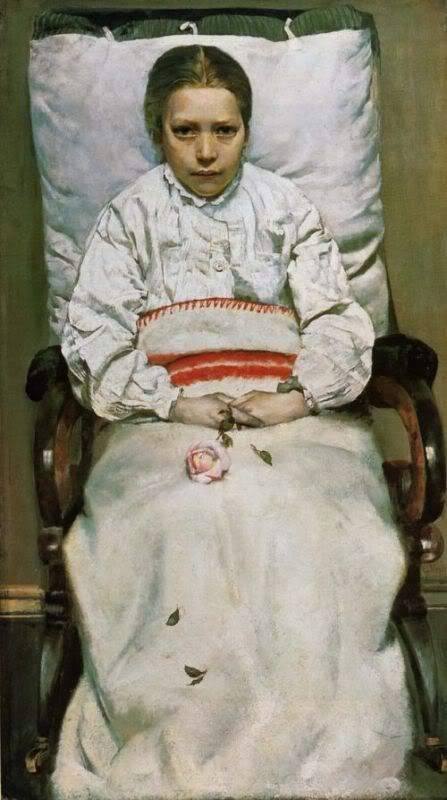 AN EXTRACT FROM MY REAL-TME REVIEW OF 'SECRET EUROPE'
HERE
In 2008, I saw this painting by Christian Krohg (1852 -1925) inside the Oslo National Gallery. I wished her better.
A Minor Official - Mark Valentine
"There are some men, I know, who like the wasted beauty of sickly pale creatures: yet — even so. At least, it seems he did not put the portrait in his book. Perhaps it was to be a private pleasure. The point is that a minor official does not indulge his morbid fancies: he resolves to find out how the sickness was caused, how it might be prevented, or at least assuaged.".
"A Minor Official" is a minor classic.
It had me in tears by the end. Someone so conscientious about his official duties as a water inspector in Herzegovina. A simple good man who has instinctive brainstorming thoughts about 'emotional' geography (cf the aural geomancy earlier — here more mood-mapping) as well as his humble-important position or task in optimising the water supply for other simple folk he meets … and the tears came to my eyes when he expressed unqualified confidence in the equal conscientiousness of the postal workers (other minor officials) in ensuring delivery of his letter enclosing a copy of the 'Hydrologer's Manual' he had earlier promised to honest people whom he had met during the course of his water duties: despite not knowing the correct address but drawing a map on the envelope instead. I then brainstormed myself. I'm a minor writer, of course. An official of real-time reviewing. I speculated on the mood-mapping of our current Euro debt and currency crises, knowing, as I do, the importance of emotions: the confidence (or lack of confidence) in somehow determining the direction of the markets etc. Not a horsocope of tidal currents, but a conscientious cartography of currencies. A major consideration from a minor pen regarding a Sad Europe? (6 Mar 12 - five hours later)
.
The Way of the Sun – John Howard

"A balcony on the Mediterranean: it had become almost an obsession with him."
[I had no idea this story was coming up when I chose 'The Last Balcony' page of my website to house this part of my review. Also, the author's own off-piste comment at the bottom of
'The Defeat of Grief'
review page
here
takes on a new significance!] — And after my reference to 'Sad Europe' (as opposed to 'Secret Europe') at the and of my previous entry about 'A Minor Official', things seemed ripe for this story of a sunshine trip, in quest of the balcony, threaded with lucid dreaming. A Defeat of Grief indeed. 'Mediterranean' itself – literally – reminds me also of seeking the Earth's Core of the Nemonymous Night as well as the ultimate balcony, adding a perfectly offsetting tone of oblique dark-lightness,,, yet, we have the Mike Leigh-type (?) married couple, all mouth and trousers, bugging our protagonist, ever turning up with 'good intentions' and pointless chatter….not the minor official's 'emotional' map as such but a downhill pest-piste. In many ways, I resented them as much as the protagonist did! A story that can swing in this way is surely a masterpiece. [A world without a Bill and Joan would be like a world without the gloom under the aegis of which I collect art gallery painting cards by Munch, Bosch et al.] Or am I swayed by the story's own insistent bugging obessions as well as by my own? No, it
is
an exquisitely-styled story, with or without any such connections. Surely set to become an all-time favourite story from the viewpoint of the Lewis head. (7 Mar 12 – 9.20 am gmt
.